What's going on:
You can read only some "development" news here, huge amount of amps comes through 4rockers workshop for service and repairs...

- 8/2017: New Facebook page 4rockers Amps just started! Join us to be informed about news and our development!

- 8/2017: New offices, new address! It was absolutely impossible to stay in old small workshop, new address is U Elektry 650/2, 19300 Praha9, Czech Republic.


- Daniel Krob (Kreyson memorial) first touch Marshall JVM410HJS modified by 4rockers:

- 3/2017: One more modified Marshall JCM800 2210 is now back in Montpelier (France) to record new client's CD of the band Black beauty with very positive feedback.  Converted to pure tube sound with typical hard&heavy 4rockers sound.

- 3/2017: huge amount of work here.... A lot of repaired and modified amps, new modifications for Laney LC50, ESH1001 or 6th generation of Marshall JVM205/JVM410 modifications, Check Marshall modification page for brand new video of JVM205 modification! 
- 1/2017: New modifications for Laney amps, check Laney modification page for new video of small Laney VC30 modification for classic rock sound.
- 8-9/2016: Improved preamp modification for Marshall DSL, a lot of other development and modified amps. We are proud to announce brand new guitar cabinets 2x12 and 4x12, top parts, unique conception, custom materials - and awesome sound! We are close to start of production.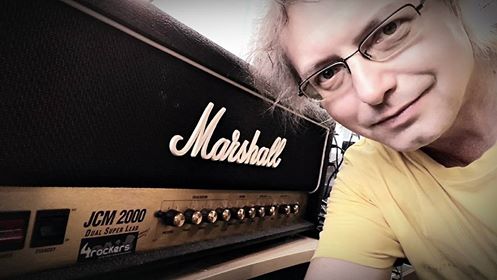 - 8.6.2016: We are celebrating first client from Japan, the band Kikagaku Moya needed fast service support for old Fender amps and other equipment during theirs european tour, so we are happy, that we were able to solve a lot of problems in ultra fast response times... Another news is from amp modifying services, yes, we have now new Bugera 333/333XL with better structure on bass for metal work. 

- 30.5.2016: New preamp modification for peavey 6505/5150 or Bugera 6260/6262 amps! No fizz, no overgained sound, you'll hear your tones well in the arrangements... Check short video of Bugera 6260 on Bugera modification page!

- 26.5.2016: Improved version of Marshall TSL modification! Check our page for Marshall amp modifications! TSL joined our JVM/DSL family with new style 4rockers preamp to return amp back to punchy rock/metal sounds!  
- 1.5.2016: New version of our modification of "techno amp" Marshall DSL50 just finished and built into some client's amps, we can change this amp from chemical original to real rock machine - from classic rock to heavy metal, nothing is a problem now, all chemical attributes dissapeared from sound... Check our page for Marshall modifications!

- 25.4.2016: We are proud to confirm results of cooperation with professor Sindler, famous czech jazz player. We modified some small Class-D bass amps Gallien Krueger MB200 to be useful for jazz guitars (archtops, semi acoustics, etc...). Huge tuning of this small amp changed this bass amp into lightweight jazz amp... You can see these amp on a huge amount of gigs with Jaroslav Sindler now.

- 18.4.2016: Improved modification of Marshall JVM410 for better midrange punch, check page for Marshall modifications for video!

- 17.4.2016: New video of improved Engl Thunder modification! Check Engl modification page!

- 12.4.2016: Do you want to hear 4rockers amps on stage? No problem, just listen one of the best CZ jazz players Adam Tvrdy with his 4rockers Tough 30 at LMB Prague 11.4.2016:

- 9.4.2016: New preamp modification for cheap chinese Randall RD-45 for typical metal backings. Check video at Randall modification page!

- 5.4.2016: Big interview with me about sounds, history, amps etc. on Czech music server Music stage. Many thanks!

- 1.4.2016: Brand new development of small Engl Thunder preamp. Check Engl modifications page for video example!

- 24.2.2016: New development - improved modifications for Bugera 333XL, Peavey 5150 and brand new modification of Jet City JCA-50 (check video).

- 9.2.2016: New video of our new developed modification of Bugera V55 amp. Check page for Bugera modifications to hear this boring amp converted to hard&heavy machine!

- 15.1.2016: You can hear a lot of modified amps by 4rockers here on our web pages, but are you looking for 100% original amps developed by 4rockers ? Check next video - fantastic jazz player Adam Tvrdy plays his signature amp 4rockers Tough30. Pure 100% tube signal path, 2 channels, inside integrated tube driven 2x 24 bit multiefx, srectifier tube simulation, EF86 FAT preamp, top boutique parts...

- 1.11.2015: A lot of new projects, modified amps during last months... Check this new video of latest Marshall JVM410 modification!

- 21.5.2015: Added new video for Marshall DSL 50 modification (new development 2015)!

- 18.5.2015: New video with 4rockers modification of Bugera Trirec amp!

- 13.5.2015: New video of Randall RH50T modification...

- 27.4.2015: New video of Marshall 2205 modification (crunch without any clipping diodes, 4rockers preamp inside)
- 17.2.2015: Inserted new videos for Marshalls JVM410 and JCM800 2205, Bugera 6260/6262 and Laney AOR, check pages of amp modifications...

- 2/2015: Brand new modifications of Marshall JVM410, Laney AOR100, Bugera 626x/ Peavey 5150/5150 II...

- 24.9.2014: New videos of Bugera 333XL, Orange and some other modifications. A lot of amps were repaired and modded during last months, but only examples are here as videos. Contact us for other amp mod possibilities!

- 13.8.2014: New section Orange modifications with video of modded TH30, added new video to mods of other amps section.

- 12.8.2014: Added videos of repaired very old tube amps here in 4rockers service (Visit Service page)

- 23.3.2014: New section in the menu: Engl modifications and Peavey modifications! There is one new video for Engl Thunder, but this modification is common for almost all Engl amps. New videos are coming... Now we can use DHL service for transport of amps across Europe for service and mods!
- final phase of new floor tube drive for our typical singing lead tones
- we are working hard on new MIDI boxes for tube amp switching
- new version of our Silent Scream power attenuator for home recording studios